Mounting
One is not born a design and construction expert and you cannot act as such: you can do it by gaining experience and putting constant effort into.
Trittico is synonym of punctuality and trustworthiness.
The customer turns to us because he wants both the highest quality of the finished product and the guarantee of the best service till the very last day of the exhibition or event.
Trittico is guarantee of accuracy and punctuality.
With us you do not run the risk of arriving at "the last minute" and perhaps even with an incomplete stand.
Our professionalism is expressed in the precision and care of the finishing as well as during the final mounting of the stand within the exhibition center. It is essential for a good builder to pay attention to every single aspect of the construction, whether it's the paneling, glass cabinets, furniture, lighting, audio / video or graphic installations.
Each detail is reviewed in order to make sure the stand is perfectly in order and ready to be "visited".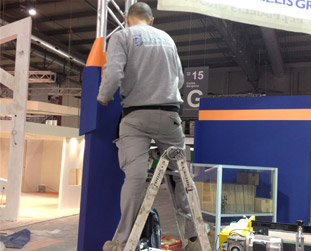 Artwork setting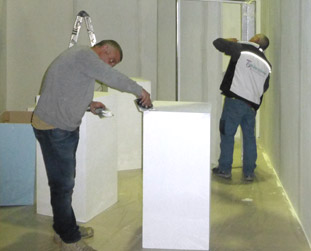 Mounting phase